CONTACT US
OVERSEAS Contact:Hanan Assayag
US Add:Orkan18.LLC.9284 talway cir Boynton
     beach.fL33472
Tel:+001-8556752618
Mobile:(001)5613126473
CHINA Contact:Jack Du
Cel:+86-158-1188-2441
Phone: +86-755-25423447
Fax: +86-755-25417648
Email: jackdu999@yahoo.com
Tray sealing machine
Plastic tray vacuum sealing machine Semi automatic MAP packaging machine for food fruits sealer

The Vacuum plastic tray sealing machine can keep food fresh with vacuum&nitrogen flushing function model YX-430A.
The vacuum gas-adjustment freshness-retaning packaging machine is developed and researched independently by the manufacture itself
on the basis of vacuum packaging machine and gas-adjustmen packaging machine ,it is our patented products,it is characterized by novel construction,stable property ,etc.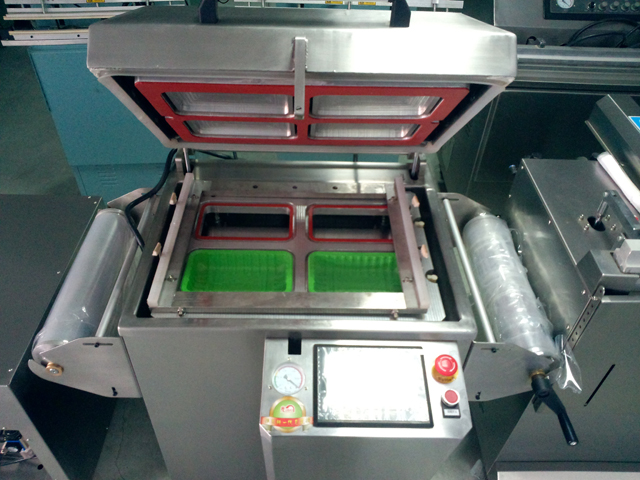 MAP machine applications:
It suits for seal cups, plastic bowls, paper cans and paper cylinder like instant noodles bowl,
potato chips can, milk cup, ketchup cup etc for any kinds shape plastic and paper materials.
We can customize the nonstandard cup seal machine based on customer products.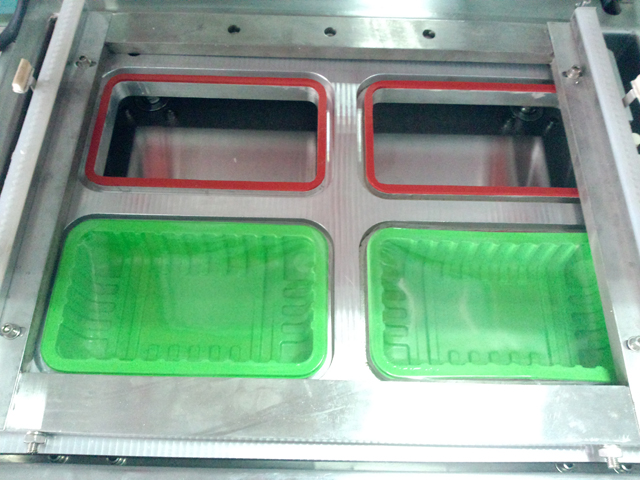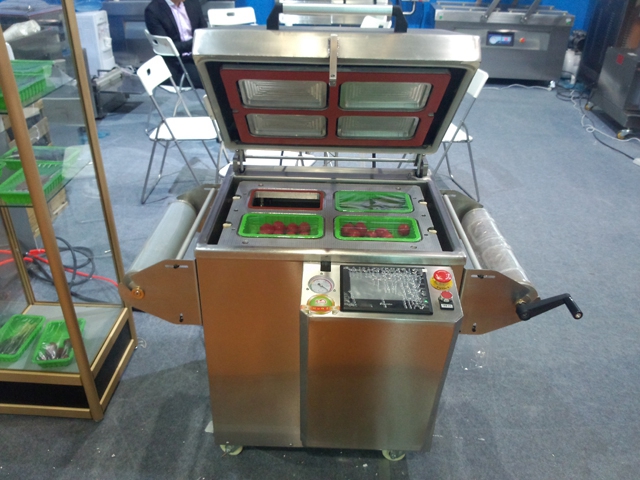 Basic parameter of model YX-430A vacuum sealing machine gas infilling:
Tray sizes in Max range:430*305*100mm(customizable)
Machine sizes : 940*625*1015mm
Packaging speed: 3-4trays per min
Voltage: 380/220V 50HZ or 60HZ (customizable)
Working air compressor:0.6-0.8MPA
Power of Vacuum pump:1.1/1.5KW
Weight of sealing machine: 145KG
Flushing gas:Nitrogen oxydron CO2
*Note: The above parameters are for reference only. The machine constantly upgrades parameters that may cause the actual discrepancies, please understand.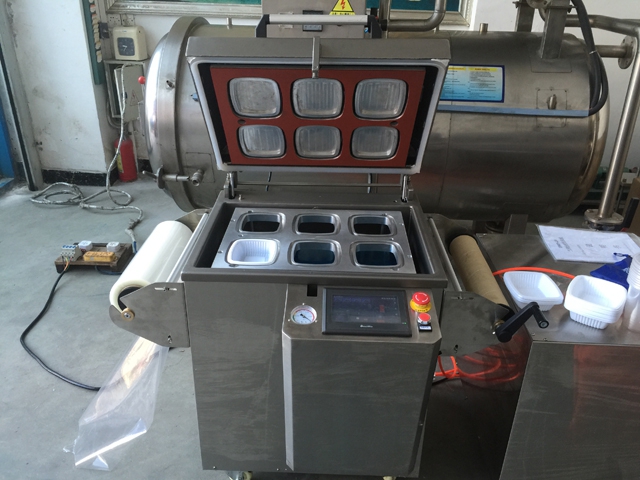 schematic of vacuum tray sealing equipment semi-automatic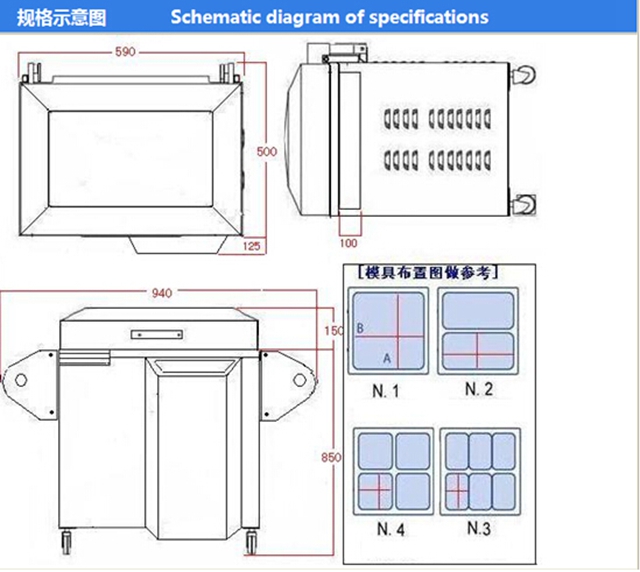 PLC touch screen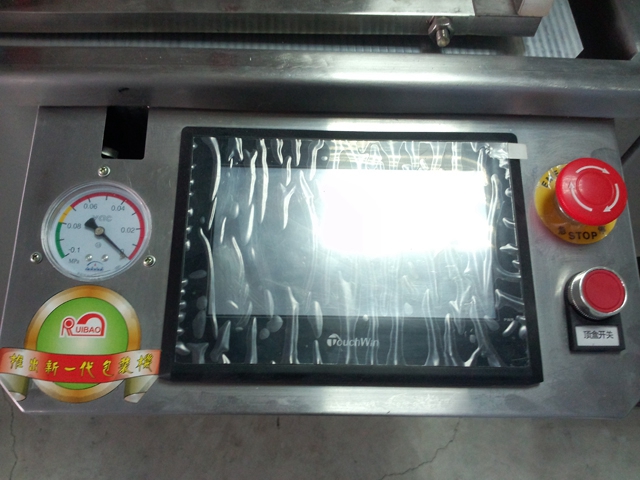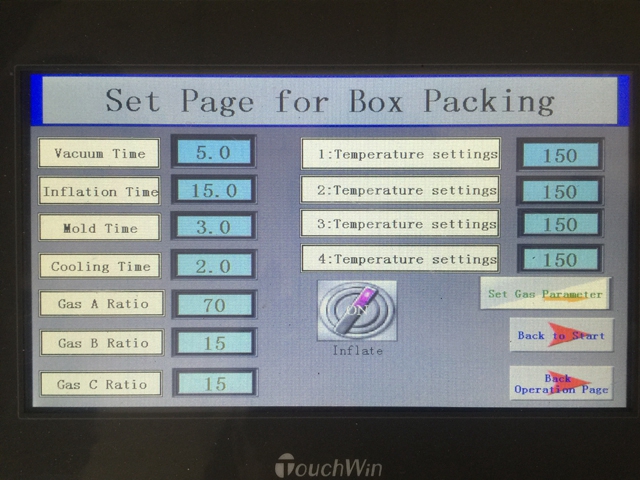 Other details pictures for the vacuum boxes sealing machine in food packaging industry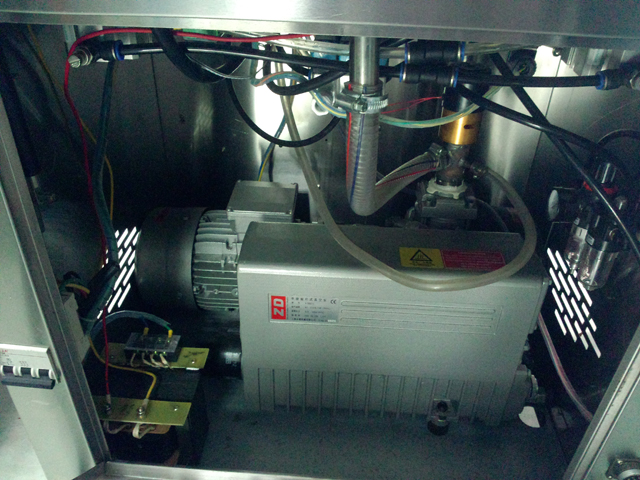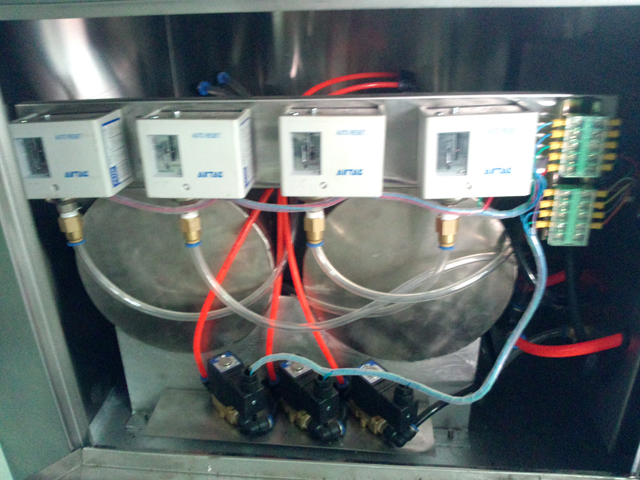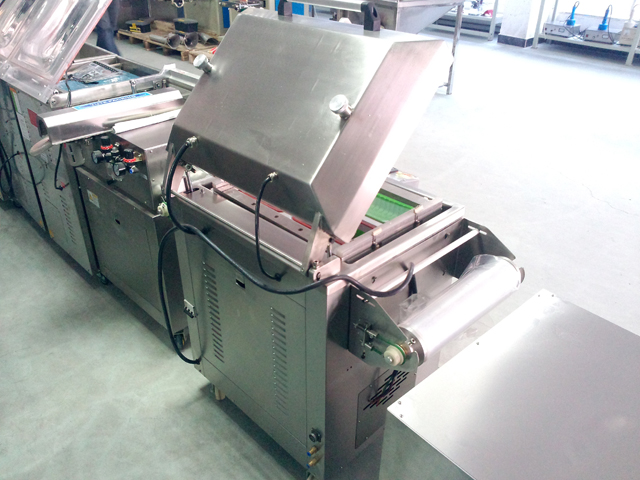 Samples for vacuum sealing machines MAP packaging equipment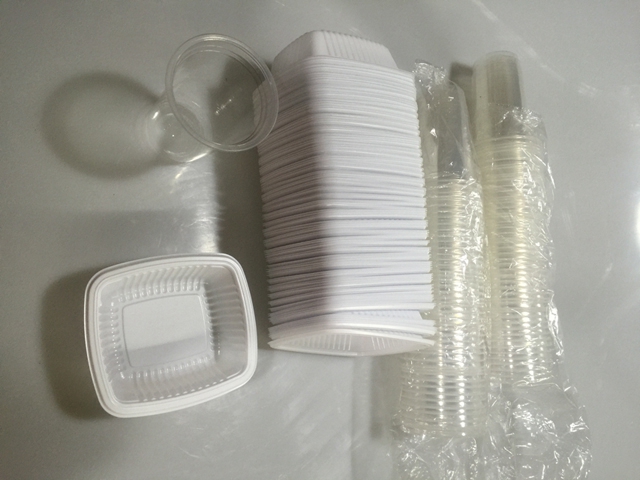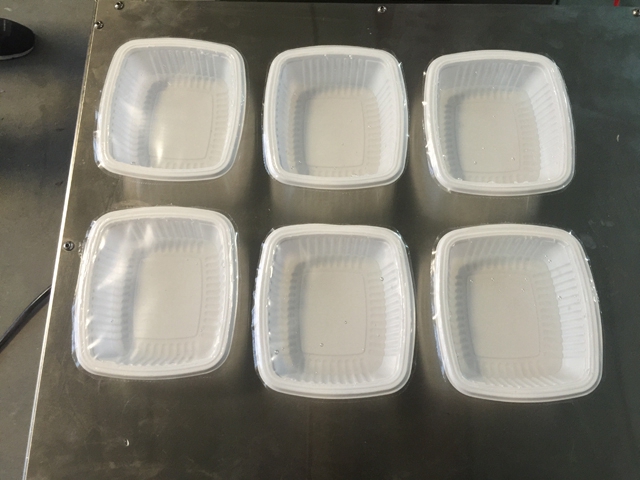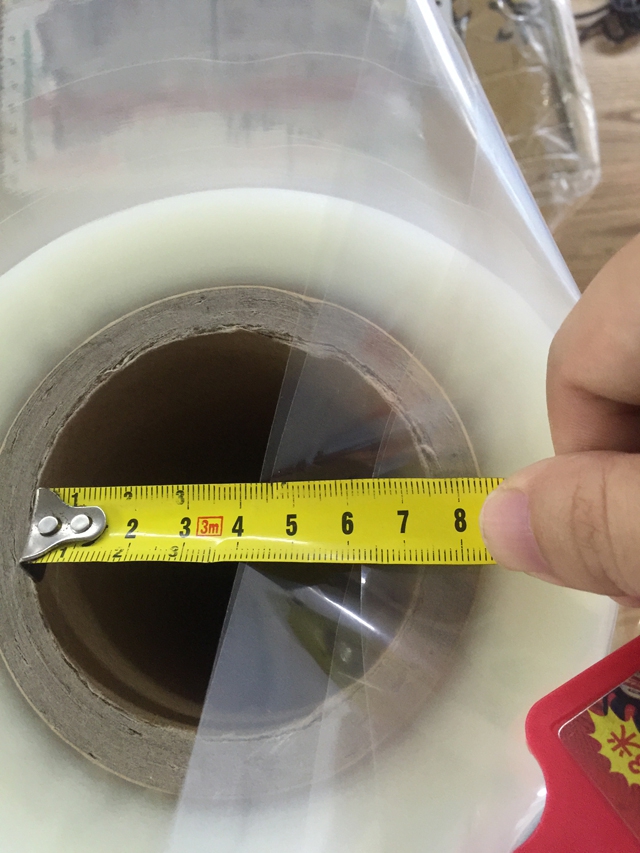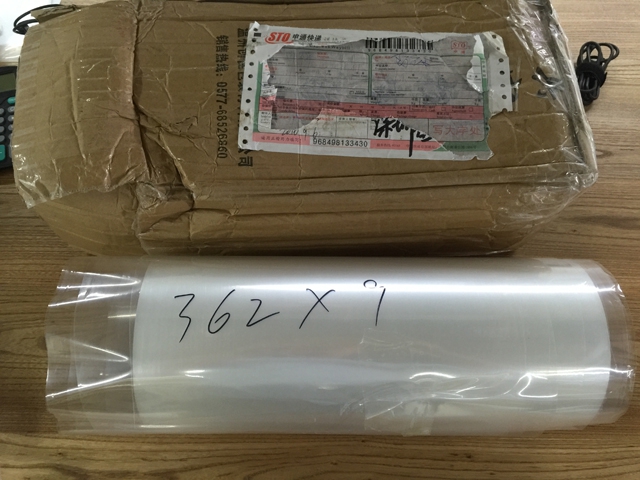 Final product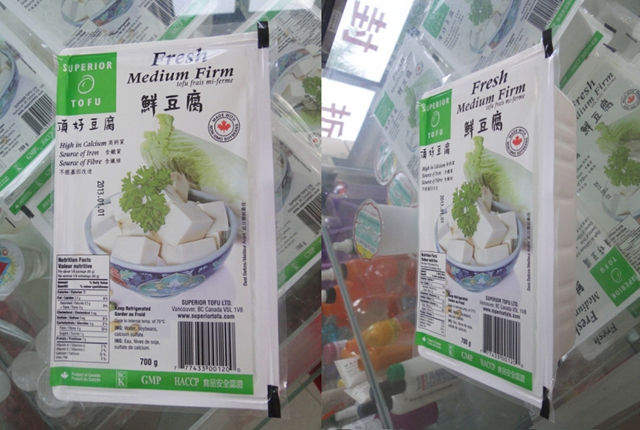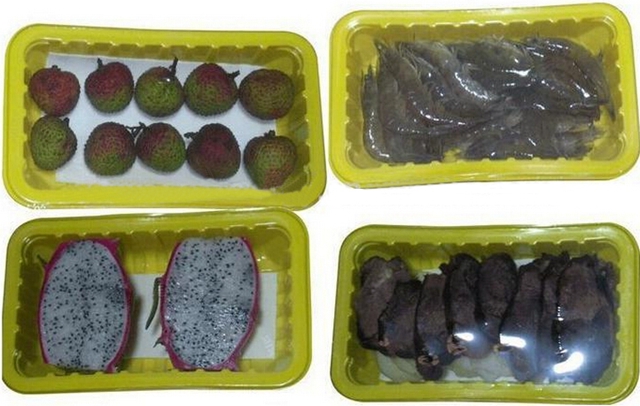 Annotation: What is the Modified Atmosphere(MAP) packaging?
Modified atmosphere is the practice of modifying the composition of the internal atmosphere of a package (commonly food packages, drugs, etc.)
in order to improve the shelf life.[1][2] The need for this technology for food arises from the short shelf life of food products such as meat, fish, poultry, and dairy in the presence of oxygen.
In food, oxygen is readily available for lipid oxidation reactions. Oxygen also helps maintain high respiration rates of fresh produce, which contribute to shortened shelf life.
From a microbiological aspect, oxygen encourages the growth of aerobic spoilage microorganisms.
Therefore, the reduction of oxygen and its replacement with other gases can reduce or delay oxidation reactions and microbiological spoilage.
Oxygen scavengers may also be used to reduce browning due to lipid oxidation by halting the auto-oxidative chemical process.
Besides, MAP changes the gaseous atmosphere by incorporating different compositions of gases.
The modification process generally lowers the amount of oxygen (O2) in the headspace of the package.
Oxygen can be replaced with nitrogen (N2), a comparatively inert gas, or carbon dioxide (CO2).
A stable atmosphere of gases inside the packaging can be achieved using active techniques,
such as gas flushing and compensated vacuum, or passively by designing "breathable" films.

Semi-auto vacuum sealing machine packing in wooden case before shipping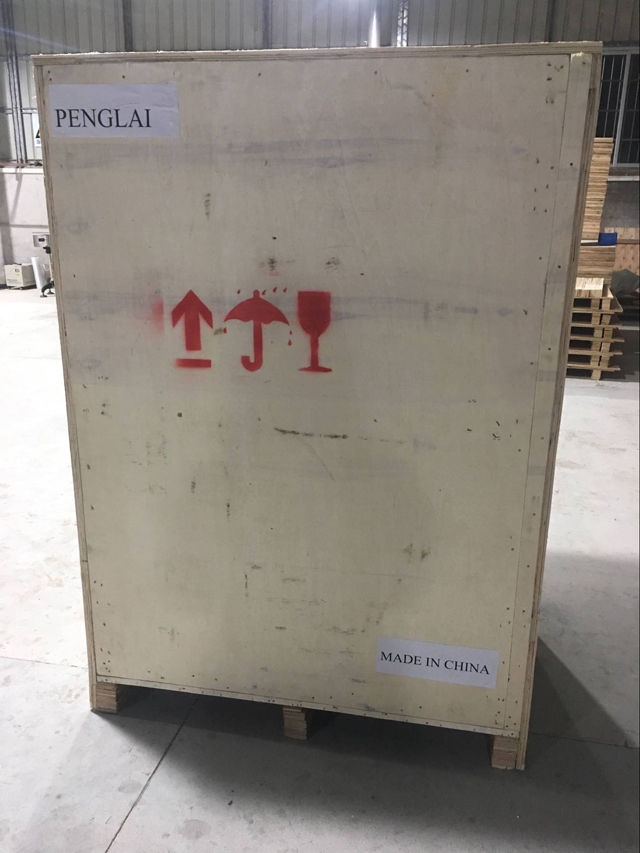 After-sales service for model YX-430A vacuum tray sealing machine semi-automatic
Guarantee: for all the machine, it claims three years for guarantee.(Excluded from the warranty are problems due to accidents, misuse ,misapplication,
storage damage, negligence, or modification to the Equipment or its components. ALSO THE EASY BROKEN SPARE PART IS NOT INCLUDED IN THE GUARANTEE)
Installation: after the machine arrive your factory,if you need,our technician will go to your place to install and test the machine
and also training your worker to operating the machine (The time of train depend on you worker).
The expenses (air ticket ,food , hotel,the travelling fee on your country) should be on your account
and you need paid for the technician USD50 per day. also you can go to our factory to do training.
After service: If you get the problem on the machine ,our technician will go to your place to fixed the machine as soon as possible .
The cost should be in your account.(as above).
Related Product