CONTACT US
OVERSEAS Contact£ºHanan Assayag
US Add£ºOrkan18.LLC.9284 talway cir Boynton
¡¡¡¡¡¡¡¡¡¡beach.fL33472
Tel£º+001-8556752618
Mobile£º(001)5613126473
CHINA Contact£ºJack Du
Cel£º+86-158-1188-2441
Phone: +86-755-25423447
Fax: +86-755-25417648
Email: jackdu999@yahoo.com
Industry news
Chinese factory activity contracted for a third month in May HSBC factory PMI shrinks Output Slumps
Date: 2015-05-23 16:58:45 Published by: PENGLAI INDUSTRIAL CORP LTD
Chinese factory activity contracted for a third month in May and output shrank at the fastest rate in just over a year, a private survey showed, indicating persistent weakness in the world's second-largest economy that requires increased policy support.
The poor reading, which followed a raft of downbeat April data, reinforced analysts' views that Beijing has to take bolder steps to combat a protracted slowdown, as growth threatens to drop below 7 percent for the first time since the global financial crisis.
"The subdued flash PMI print suggests there is no clear sign of near-term stabilization in the economy. Risks to the outlook remain to the downside," Barclays economist Shengzu Wang said in a research note.
The preliminary HSBC/Markit Purchasing Managers' Index (PMI) fell to 49.1 in May, below the 50-point level that separates growth in activity from a contraction on a monthly basis.
Economists polled by Reuters had forecast a reading of 49.3, slightly stronger than April's final reading 48.9.
After a brief rebound in February, the index has now been back in negative territory for three consecutive months.
"Softer client demand, both at home and abroad, along with further job cuts indicate that the sector may find it difficult to expand, at least in the near-term, as companies tempered production plans in line with weaker demand conditions," said Annabel Fiddes, an economist at Markit.
"On a positive note, deflationary pressures remained relatively strong, with both input and output prices continuing to decline, leaving plenty of scope for the authorities to implement further stimulus measures if required."
The latest survey showed China's factories continue to struggle with sluggish demand at home and abroad.
The sub-index on new export orders fell to a 23-month low of 46.8 in May, while overall new orders shrank for the third straight month, albeit at a slower pace.
The output sub-index contracted for the first time this year, to a 13-month low of 48.4, while the employment sub-index showed manufacturers shed jobs for the 19th month in a row.
The central bank is widely expected to cut interest rates further in coming months, on top of three reductions since November, and is also likely to lower banks' reserve requirements again to reduce companies' borrowing costs and encourage more lending.
The government is stepping up fiscal spending, with a strong focus on infrastructure projects. China has approved 250 billion yuan ($40.30 billion) of railway and subway projects so far this year, the country's top economic planner said on Monday.
Julian Evans-Pritchard at Capital Economics said the PMI painted a mixed picture, with domestic demand possibly showing signs of stabilizing in response to earlier policy easing but still under pressure from a weak property market. Exports, meanwhile, have been hurt by the yuan's rapid trade-weighted appreciation.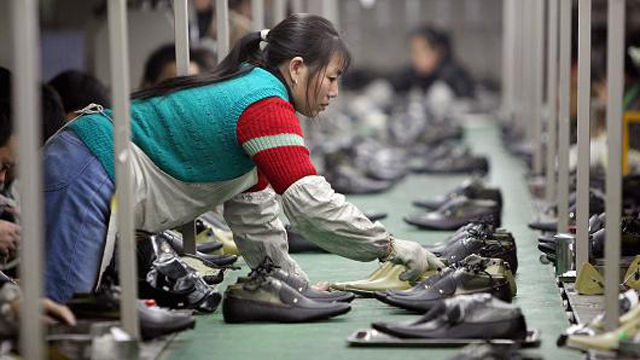 WHEN WILL STIMULUS KICK IN?
China's economic growth slowed to a six-year-low of 7 percent in the first quarter, weighed down by the cooling property sector and softening demand, which is leaving more and more factory capacity standing idle and depressing companies' profits.
Recent data showed a further loss of momentum heading into the second quarter, with investment growth in January-April falling to its lowest in nearly 15 years.
Most analysts have already penciled in sub-7 percent growth for the second quarter, raising the risk that the government will not meet its full-year growth target of around 7 percent.
State Information Centre, a top government think-tank, has predicted second-quarter growth of 6.8 percent.
But signs that the government is ratcheting up its policy support for the economy have fanned optimism that growth could bottom out in the second half, though few analysts expect a solid recovery.
"We expect economic growth to gradually stabilize as the government is determined to safeguard its growth target, but policy measures are still not strong enough," said Xu Gao, chief economist at Everbright Securities in Beijing.
Premier Li Keqiang said that he was confident China has the ability to meet its 2015 target, the official news agency Xinhua said on Thursday.
PENGLAI INDUSTRIAL CORPORATION LIMITED